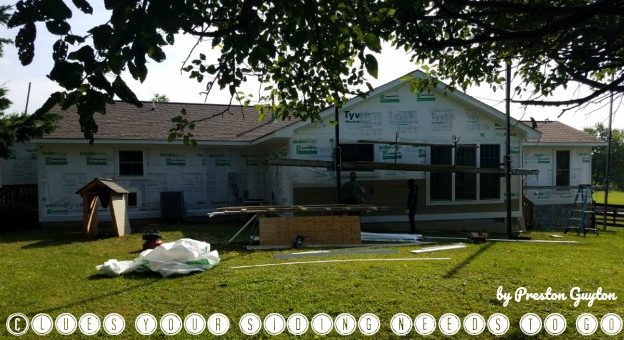 Replacing Siding Before Selling Can Increase a Home's Resale Value and Buyer Appeal
Before listing a home for sale, it's always a good idea to have an experienced real estate agent take a look and make suggestions for improvements, repairs, and upgrades that should be made before listing. Often times, these upgrades and repairs not only improve the value of the home, but make it more appealing to prospective buyers as well. Many homeowners are surprised to learn that replacing existing siding can drastically improve a home's resale value, allowing for an excellent return on investment and a faster sale.
Signs It's Time for Siding Replacement
Knowing when it's time to replace siding isn't easy for everyone, as damage and worn siding isn't often obvious. Calling a siding company out to assess a home's existing siding is the best way to get an informed opinion and recommendation, especially for homeowners who aren't sure when their siding was originally installed. Still, there are some common telltale signs that may indicate the need for siding repair or total replacement.
Warping or Rotting
Depending on the type of siding on a home, extensive damage may be visible in the form of warping or rotting siding. For homes with vinyl or aluminum siding, warping will be the most obvious sign. Usually, the best way to spot warped siding is to view the home from afar during broad daylight. Sections of siding that appear "wavy" or "bumpy" are likely warped and need replaced.
Rotted siding is a serious problem that affects wood siding because, if left untreated, it can result in damage spreading to a home's framing – and most buyers aren't looking for a fixer-upper.
Cracks and Chipping
Siding damage can also be visible in the form of cracked or chipped siding, which is most common in fiber cement siding. That's because fiber cement, while one of the most durable siding materials available, does not have the flexibility of vinyl or aluminum siding. Therefore, it tends to crack under pressure. These cracks can unfortunately allow moisture and debris to seep into the home.
Evidence of Mold or Mildew
Finally, any evidence of mold or mildew could indicate the need for total siding replacement or extensive repair. Generally, mold or mildew will be easily visible as splotches or dark spots on the siding.
Benefits of Replacing Old Siding
For homeowners contemplating a siding replacement project before listing their home, there are many benefits to doing so that can add value and appeal to today's discerning buyers.
Improve Energy Efficiency
For starters, new siding is much more energy efficient than old and damaged siding, making it a great way to lower energy costs for future buyers. This is a huge appeal because energy costs are often increasing, making energy efficiency an important factor for many of today's new home buyers.
Boost Curb Appeal
There's no denying the importance of curb appeal when it comes to selling a home. Even a house that's beautiful on the inside isn't likely to see much interest from buyers if it doesn't have a pleasant exterior appearance. One of the best ways to give a home an exterior makeover is to replace its siding. Depending on the color, style, and type of siding chosen, it's possible to refresh the entire look of a home with this type of project. And with increased curb appeal, more prospective buyers will be likely to come tour the home.
Protect a Home From Damage
Last but certainly not least, new siding protects a home from all kinds of damage that could affect its value. Old and damaged siding is prone to leaks, which can cause water damage and rotting. These are issues that no new homeowner will want to expose themselves to. By being able to advertise that a home has new siding, home sellers are at an immediate advantage over other homes on the market.
While replacing siding may seem like a large undertaking for those about to sell a home, it's important to realize that the return on investment for such a project is high. By adding curb appeal, protecting the home from future damage, and increasing energy efficiency, new siding can add appeal and value to a home about to hit the market. Those interested in siding replacement should contact a reputable siding company for an estimate.
Special thanks to CRG Company's managing partner for their guest post, if you liked this article and you would like to read more check out Preston Guyton.
Posted by Main Office
On August 18, 2017
0 Comments